Hello guys new here,
i just got a nest recently and I have a Boliermate II with a GlowWorm Boiler.
Just wanted to confirm if anyone has ever installed a Nest with this setup and just to confirm if my plan is correct.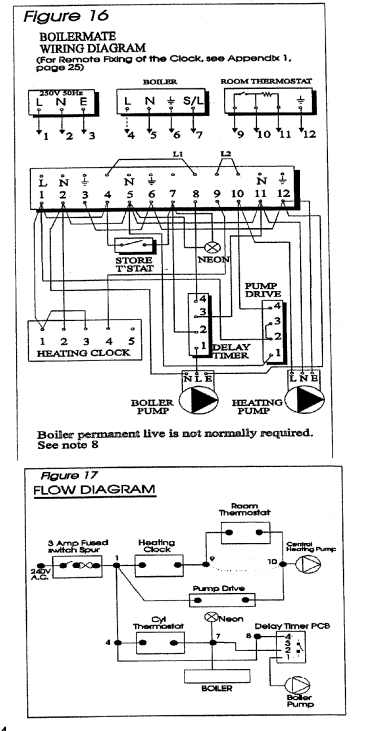 So my plan is to get the Heat Link Central Heating relay between 9 and 10, just like my current Thermostat at the moment, 9 goes to common 10 goes to Call for Heat. Obviously I can always bypass the Mechanical Clock and do the connections between 1 and 10.
Then for the Heat Link Hot Water relay ill connect between 1 and 4, 1 goes to common and Call for Heat goes to 4, which in turn goes to Store Thermostat.
I know this does not control the hot water (Taps) but controls the temperature of the water stored used for both hot water and central heating.
I read in the manual for the Boilermate that the stored Water should be kept on at all times, that's why the analog clock only really controls the central heating, is it efficient to turn this of by wiring terminal 1 and 4 to the Nest as above and turn it off when we are at work, or would this use too much Gas to then warm all the water again once we get home? Or is it better just to control the Central heating only with terminal 9 and 10 and leave the stored water thermostat circuit that controls the boiler alone?
What would be the ideal way to connect the Nest with this unit, do both "9 and 10" and "1 and 4", or just "9 and 10"?
Many Thanks.

Guizado




Posts

: 6


Join date

: 2016-11-20



I would use the Nest to override the mechanical clock/thermostat only. There's no point using the HeatLink Hot Water relay - you need the store hot for the h/w demand side whenever that might be. Also, see my other post on the overnight shutdown.

SidDIYer




Posts

: 23


Join date

: 2011-01-02



Thanks for the tip, I went ahead with both modes, Hot Water by removing the wire between 1 and 4 and getting Call for heat to Pin 4 for the Heat Link hot water relay, if it doesn't work very well i can just set the schedule to be always on or just bring a link from Live on the Heat Link directly to Call for Heat Pin 3, for the central Heating i bypassed the mechanical clock and replaced the old stat by the Nest Central Heating relay.

Many Thanks

Guizado




Posts

: 6


Join date

: 2016-11-20




---
Permissions in this forum:
You
cannot
reply to topics in this forum