Hi!
We recently moved to a new flat with a Pulsacoil A-class and a regular, single meter. There are two switches on the wall labelled "immersion" and "boost". "Immersion" is connected to the "ON PEAK supply" on the connections board inside the boiler, and "boost" is connected to the "OFF PEAK supply".
The previous tenants told us to keep "Immersion" switch on at all times, and turn on the "Boost" switch on the wall about 30 minutes before we needed a shower.
But reading into it for the past few days, we're not sure we're using it correctly. For example, we never used the black Boost button on the boiler itself.
Can you please advise what's the correct way of using a Pulsacoil A-Class with a regular meter?
Thank you!
Aviv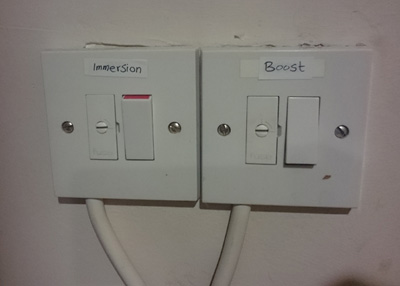 avivor




Posts

: 1


Join date

: 2017-05-05



I would say the switch on the left is the Off peak heater (bottom one)
The right hand switch is the On peak heater which when switched on you will / should need to press the black button on the PC A class.

You need to be on E7 to get the best from the unit.

All books User and manual can be downloaded from Gledhill (free)

Mike
MGC/H2O
Norfolk
---
Permissions in this forum:
You
cannot
reply to topics in this forum