Hi i have been trying to fix a Pulsar Coil cylinder which is only giving out warmish water. Both immersions have been changed & new thermostats but still the tap water is only warm and not HOT.
If you look at my uploaded pic of the mixer valve do you agree with my conclusion.
A= Hot water out from cylinder should be 77c
B= Hot water after mix (if mixer is set to full hot, should be 77c output?)
C= Cold mains in, if mixer is set more or less cold mains is added to final mix output
D= When i set mixer to full hot (77c) i can feel heat in this pipe, so does that confirm my mixer is not fully closed and therefore allowing some hot & cold to mix creating my warmish final output?
If mixer was working properly should i feel no heat in pipe 'D' when mixer set to full hot or do you always get a slight temp seep between the mixer & cold mains at point 'D' and pipe 'C'?
[img]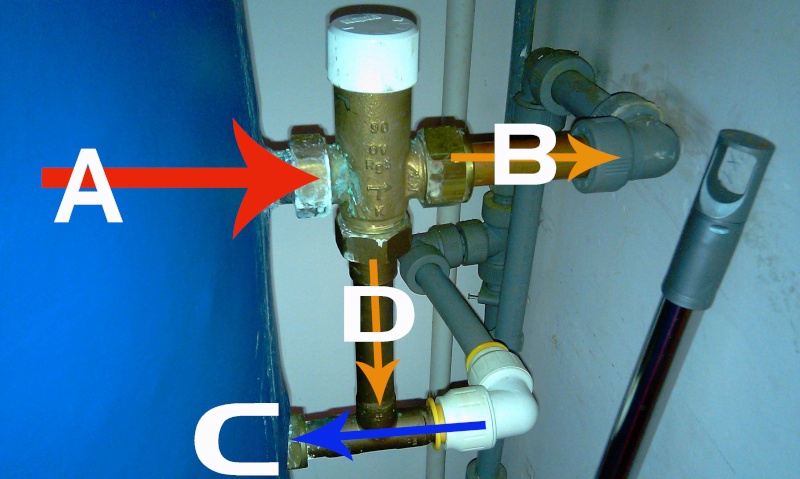 [/img]
If i need a new mixer can anyone suggest where i can pick up an exact replacement as i dont fancy redoing pipework, would rather just bolt a new one in.
Cheers
Fatty H

Fatty Headbutt




Posts

: 1


Join date

: 2009-12-12



Hi your conclusions are broadly correct.

I suggest buying a mixer from www.segel.co.uk. They will sell you the exact part for a straight swap. If this doesn't fix it, then the coil inside needs descaling. Often both problems crop up together.

There are no other possibilities!

Cheers, Mike
c = cold supply to coil arrow direction correct
a = cold supply passed through coil to give -hot water
b = mixed water to taps
d. cold supply to valve to mix to correct temp arrow facing wrong way.
if there is a drastic drop in pressure at the tap then i would look at getting the coil descaled if its still of resonable pressure then i would 99% = oventrop /brawa mixing valve visit oventrop.co.uk
hope this helps
mark.
www.gledhill-repair.co.uk
---
Permissions in this forum:
You
cannot
reply to topics in this forum